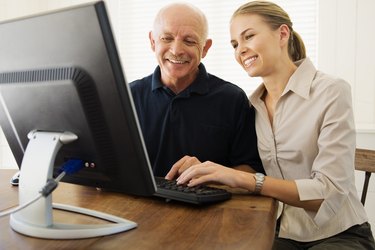 If you are a Microsoft Outlook user you can import your e-mail messages from other e-mail accounts such as Yahoo!, Gmail or Hotmail into Outlook. Performing this task itself will take a short amount of time and there is not a charge for this service. You are, however, required to configure your e-mail accounts into Microsoft Outlook by adding the e-mail accounts to Outlook before you can import e-mail messages.
Configuring and Adding E-mail Accounts
Step 1
Open Microsoft Outlook. Select "Email Accounts" found under the Outlook Tools Menu.
Step 2
Choose "Add a New Email Account" and select "Next." Choose "POP3" found in the "Server Type" dialog box, then select "Next."
Step 3
Type in the name you wish to display to other users when sending e-mail messages in the text box under "Name." Type in your complete e-mail address in the "E-mail Address" text box in the following format: yourname@domain.com (the domain is yahoo, gmail, hotmail, etc.).
Step 4
Complete the server information. For incoming mail type "pop.mail.domain.com" without quotation marks. Use the same domain name used in step 3. For outgoing mail type "smtp.mail.domain.com" (without quotation marks).
Step 5
Type in your user name, i.e., "yourname" (without quotation marks) in the User Name text box . Type in your current password for this account in the Password text box. Leave the "Remember Password" check box selected. Select "Next" then "Finish."
Repeat Steps 1-5 for each Internet e-mail account you wish to add and import messages into Outlook from that account.
Importing E-mail Messages to Outlook
Step 1
Select "Import and Export" in the Outlook File Menu. Select "Import Internet Mail and Addresses" found in the Import and Export dialog box.
Step 2
Select the e-mail account in which to import e-mail messages into Outlook from the list of programs.
Step 3
Remove the check in the check box next to "Import Address Book." You are only importing e-mail messages. Select "Next" then select "Finish."
Repeat Steps 1-3 for each account's e-mail messages you wish to import.