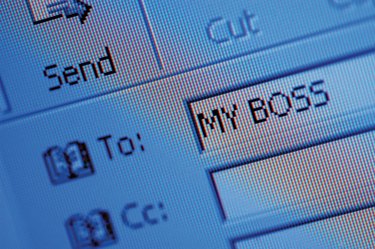 An Outlook Send and Receive Settings file provides information to Outlook on how to access a specific email service provider account and process incoming and outgoing email messages from that account. An SRS file is generated for each email account within Outlook -- multiple SRS files can exist. Each SRS file is unique and contains instructions that only apply to the email service provider it is related to.
Creation
SRS files are automatically created when Outlook is installed and email accounts/profiles are created for the first time. You cannot manually create an SRS file nor can you import an SRS file from another version of Outlook into the version of the program you are currently using. SRS files are found in and used by each version of Outlook including Outlook 2010.
Conditions
You also cannot copy SRS files to another computer or send the file via email, or the Internet, to another user. Each SRS file is registered on the computer it was automatically generated for. Erasing an SRS file stops Outlook from accessing the email account the SRS file is related to.
Formatting
Each SRS file is named "OutlookXXX.srs" with the "XXX"s representing a unique profile name or number. Click "Options," "Mail," "Setup" and "Send/Receive Settings" to modify one or more SRS files. Be careful when making changes to SRS files and email accounts. Deleting and changing values within an SRS file can cause the file to become corrupted. Outlook cannot process a corrupted SRS file.
SRS File Location
SRS files are stored within the Outlook folder on your computer. Click "Start," "Computer" and double click the "C:" drive icon. Double click the "Documents and Settings" folder and then the folder containing your unique user name. Double click the "Application Data" folder and then the "Microsoft" folder. Double click the "Outlook" folder to access the SRS files and all other files related to the email application.