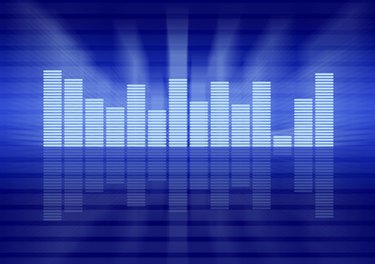 Microsoft's Windows Media Player is a multimedia program that allows users to play, manage and view audio and video files on a computer. Much like a traditional stereo, Windows Media Player has settings that can be modified to adjust the tonal properties of audio playback. Users can adjust the treble, mid-range or bass by using the program's graphic equalizer and SRS Wow effects. To get the most out of the program, users should know how to adjust these settings, including how to increase the bass in Windows Media Player. This process applies to versions 10 and 11.
Graphic Equalizer
Step 2
Go to "Enhancements" and select "Graphic Equalizer."
Step 3
Click and drag the vertical slide bar marked "31Hz." Dragging the slide bar up will increase the bass.
SRS Wow Effects
Step 2
Go to "Enhancements" and select "SRS Wow Effects."
Step 3
Go to the horizontal slide bar marked "TruBass" and slide it to the right to increase the bass.
Tip
It is best to adjust the bass using only one method, either the "Graphic Equalizer" or the "SRS Wow Effects." If you do not have a menu bar at the top of the Windows Media Player screen, right-click on the Windows Media Player icon at the top left corner of the screen to access "View." Adjust the bass while listening to a song to get immediate feedback on the setting changes.
Warning
Increasing the bass improperly can result in damage to a computer or stereo speakers. Always adjust the bass in small intervals to avoid overextending the speaker capabilities. These instructions are for Windows Media Player versions 10 and 11 and should not be applied to other versions of Windows Media Player or to other programs.