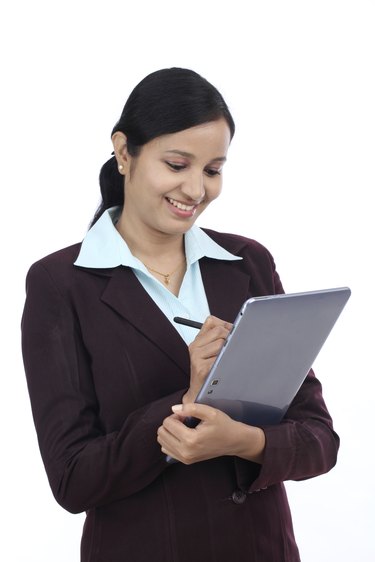 The capabilities of the Adobe-created Portable Document Format continue to expand to meet the needs of an increasing number of remote offices. Adobe Acrobat XI provides several options for users to sign PDF documents electronically and has partnered with a Web service to accept online signatures, eliminating the need to print, sign and then scan the documents,
Types of Signatures
Acrobat offers several types of signature options when you want to sign a PDF. Some require a bit of pre-planning, while with others, you add your signature on the fly. For a quick and easy signature, Acrobat offers the option to type your signature, a process in which you choose from a selection of fonts; alternatively, if you've scanned your signature and saved it as a JPEG or similar file, you can choose to use an image instead. You can hold up a piece of paper with your signature in front of your webcam to create a still-shot image to use when signing the document; you can use predefined stamps, or graphics, that include your name, the date and time; or you can create custom stamps that include your photo.
Inserting the Signature
In most cases, add signatures by opening the PDF document in Acrobat and then going to "File" and then "Add Text or Signature" or by clicking on the "Sign" button, which looks, not surprisingly, like a pen signing a piece of paper. Choose "Place Signature" and then pick the method, such as typing the signature or using your webcam. If you're using an image, click on it to rotate it or change the size. Click "Done Signing" and then confirm you want to merge the signature into the file before saving it. To add stamps, click the "Stamp" button or go to "Comment | Annotations | Stamps | Show Stamps Palette" and choose from the categories that appear and select the stamp. Click on the document to place the stamp, which will appear where you click.
Tablets and Surface Pro
Some tablets offer an option that makes signing the electronic document almost like signing the real thing. You need a compatible tablet and Bluetooth stylus, such as a Surface Pro and Wacom stylus. After opening the document on the device, click on the signature line with the stylus and sign away. Then save the document -- all without Acrobat.
Online With EchoSign
To avoid multiple versions of the same document floating back and forth through email, you might receive a request to sign a PDF document online using the Adobe EchoSign service. Click on the link provided in the email, then on the document where you need to sign. Type your name or sign it with a stylus or mouse and click "Apply." When you confirm the signature, EchoSign emails you and the original sender the signed version.