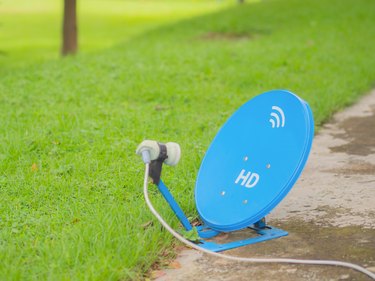 DStv is a satellite television broadcasting service from MultiChoice that serves subscribers in South Africa and other African nations. DStv offers bundled packages of digital television, telephone and mobile phone service to its subscribers. The various DStv packages offer more than 100 channels of programming. Installing a DStv dish antenna is fairly straightforward.
Step 1
Screw the six wood or cement screws into the six pre-drilled holes in the base of the the DStv antenna mast at the desired mounting location. The mounting location needs to have an unobstructed view of the southern sky.
Step 2
Place the main dish antenna assembly onto the top of the mast, with the center of the mast clamp on the back dish assembly aligning with the top of the mast pole. Tighten the two screws on the mast clamp to hold the main dish assembly securely to the mast.
Step 3
Plug the RG-6 coaxial cable into the "Cable" (or equivalent) port at the base of the main dish assembly, then plug the other end of the cable into the "Antenna" port in the back of the DStv satellite receiver that is connected to your television.
Things You'll Need
Adjustable wrench (optional)

Philips screwdriver

RG-6 coaxial cable

DStv satellite receiver