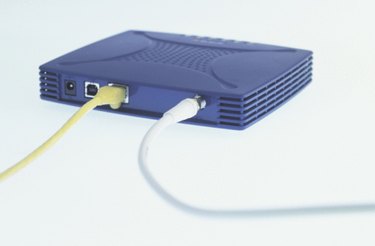 Installing Mediacom Internet service is simple as long as you already have one other service with Mediacom. By having a current service, the line is already in place to provide a connection back to the cable company. Adding modem service to your existing account and picking up an installation kit are required in advance to install Mediacom Internet service.
Step 1
Locate the cable outlet nearest to your computer desk or the location where you want to connect to the Internet. Attach the modem to the wall outlet using a coax cable jumper that is included in the self installation kit. If the outlet already has a TV connected, then disconnect the line that goes to the TV and connect it to an "out" port on the splitter.
Step 2
Run a cable jumper from the other "out" port on the splitter to the modem and another cable jumper from the wall outlet to the "in" port on the splitter. The self installation kit comes with two jumpers. If you think you will need more jumpers, request them when you pick up the installation kit.
Step 3
Make sure your computer has either a network interface card or an open USB port. Connect the modem to your computer using either a USB or Ethernet cable. Both are included in the kit.
Step 4
Open an Internet browser. The initial page should direct you to a registration page for Mediacom. It won't let you go anywhere else until you have registered your modem. This page will ask for your account number, which should be on the receipt that accompanied your installation kit. Submit your account number and the next page should confirm that your modem is registered.
Things You'll Need
Installation kit

Receipt with account number

Network Interface card
Tip
Both the USB port and the Ethernet port can be used by a different computer at the same time as long as you ask Mediacom to allow multiple Internet Protocol (IP) addresses. This service entails an additional fee.