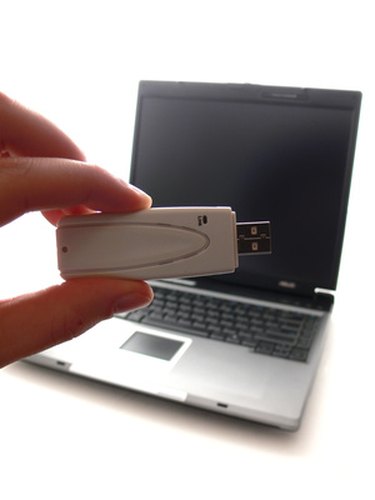 Wireless USB adapters add network connectivity to laptops and other computers. The connectivity ensures that the computer has access to resources, including the Internet and printers. Netgear offers several wireless USB adapters, which require three basic installation steps. The driver—a program that communicates with the computer and adapter—and hardware require installation to ensure proper operation. Additionally, the adapter must be configured to work properly with the network. To install a Netgear wireless USB adapter, a few simple steps are required.
Driver and Utility
Step 1
Turn on your computer. Insert the CD that came with the Netgear adapter into your CD-ROM drive.
Step 2
Click "Install Driver and Utility" in the Netgear pop-up window. The installation guide window opens once you insert the CD. If it doesn't, open "My Computer," double-click the CD-ROM drive and double-click the executable file "autorun.exe."
Step 3
Complete the InstallShield Wizard steps. The wizard will guide you through the installation process. Select your country and click the "Finish" button when complete. If prompted, restart your computer.
USB Adapter
Step 1
Remove any protective covering and insert the USB adapter into an available USB port on your computer. If you plan to leave the adapter in for an extended period, try selecting a port on the back of the computer if you own a desktop.
Step 2
Click "Install the software automatically" and then click the "Next" button in the "Found New Hardware" window. The new hardware installation wizard prompts you to complete the hardware installation. Follow the prompts to complete the process.
Step 3
Click "Yes" when asked if you would like to install the Netgear smart wireless settings utility. Click "Finish" when the installation is complete. If prompted, restart your computer.
Configure Your Network
Step 1
Click the Netgear icon in the system tray next to the computer clock. This opens the "Smart Wizard Wireless Settings Utility."
Step 2
Enter your network SSID or select a network from the list. On the "Settings" tab, enter your network's SSID in the "Network Name (SSID)" box. Alternatively, click the drop-down box arrow and select your network from the list.
Step 3
Click the "Apply" button to save your changes.
Step 4
Confirm the installation. Mouse over the status icon in the system tray to verify it matches your network's name. Make sure the status indicator on the adapter is solid, which means there is a good connection. Connect to the Internet and send a test print to confirm connection to resources.