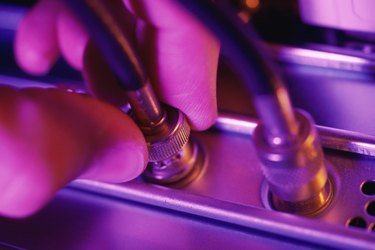 SWM multiswitches work with your DirecTV Satellite system to distribute the TV service to multiple receivers in your house. The SWM, or single-wire multiswitch, installs directly to the feed from your satellite and can be positioned both indoors and outdoors. Once your multiswitch is hooked up, you can connect the line to a splitter to connect the receivers throughout your household.
Step 1
Connect the feeds from your satellite dish with the coaxial cables to the "18V+13V" threaded jacks on the side of the switch.
Step 2
Fasten a coaxial cable to the "SWM/PWR" jack on the side of the switch. Connect the cable to the "SWM" port on the included power adapter and plug the power adapter into a wall outlet.
Step 3
Connect a coaxial cable to the "IRD" port on the power adapter and attach the other side of the cable to a splitter or to the "Satellite IN" jack on the rear of your receiver.