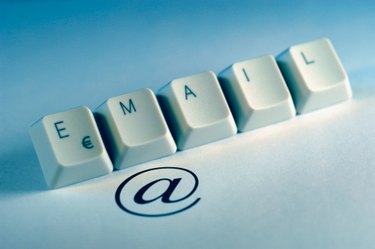 Some email providers offer users the option of requesting a return or read receipt from the recipient to confirm that the email was received. Other email providers do not offer a return receipt option, leaving you wondering if the person you sent the email to actually received it. Fortunately, you can contact a read receipt service that offers web-based tracking. There's no software to install and nothing you need to alter within your computer's programming in order to receive confirmation that the email you send is received by the intended party.
Step 1
Navigate to spypig.com or getnotify.com, which are web-based read receipt services.
Step 2
Enter your email address so that SpyPig or GetNotify can notify you when your email is received by the intended person.
Step 3
Give your email message a title to make it easy for you to identify which message the notification is for when SpyPig or GetNotify sends you the read receipt.
Step 4
Select the SpyPig or GetNotify tracking image that you want to include in your email, or upload your own image. SpyPig offers pig images, a blank image (white box) which is invisible to the recipient and a message that states "I know you've read my email!" GetNotify offers a blank image (white box) or your can upload your own image.
Step 5
Click on the number of notifications you want to receive in regard to the email you are sending. SpyPig and GetNotify will send you an email each time the recipient opens that particular email.
Step 6
Click the activation button to create your SpyPig or GetNotify image. The image will appear in a designated box. For SpyPig, click the right button on your mouse and copy the SpyPig image from the box and paste it into your email, before the countdown elapses and activates the image. If the countdown elapses before you paste the image in your email, you will receive an erroneous notification that your email has been opened. Should this occur, create and start the activation countdown for a new image. To use GetNotify, click on the left mouse button to drag and drop the GetNotify tracking image into your email. There is no countdown with GetNotify.
Step 7
Send your email to the intended recipient. Check your email for a confirmation message from SpyPig or GetNotify stating that the email was received.
Tip
Check your spam or junk mail folder for notification emails from SpyPig.com or GetNotify.com.
Each time you want to receive notification in regards to an email, you will need to complete the steps.
Just because a recipient opens your email doesn't mean that she has read it. Spypig and GetNotify can't confirm that, only that the email was received and opened.
You will need to sign up for a free account with GetNotify.com before using their email tracking system service.
Warning
Both you and the recipient of your SpyPig or GetNotify email must use HTML email, not plain text or rich text email in order for SpyPig to be able to send you a confirmation.
Spypig.com and GetNotify.com recommend that you reserve tracking emails for those people you have emailed previously, because it's more likely that you are in their address books and the message will not be sent to their spam or junk mail folders.