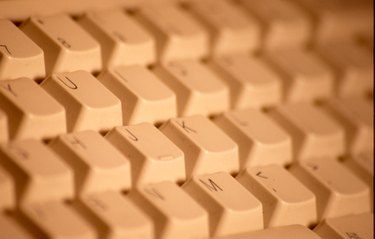 Linking your GoDaddy email account to Microsoft Outlook is an important way to check your GoDaddy email account without needing to log in to the Web-based GoDaddy email tools. Most GoDaddy email accounts allow traditional POP access for incoming emails into Outlook and use SMTP for outgoing emails. You may configure as many GoDaddy email accounts as you need in Microsoft Outlook. However, as most GoDaddy email accounts use POP, messages are sent from the server to all devices synced to the account, meaning that you will have to delete messages from each device connected to the account; they are not automatically synchronized.
Step 1
Retrieve your account settings. Log in to the web-based email client at email.secureserver.net. Highlight the "Help" menu and select "Email Client Settings." Keep the window open or write down the POP and SMTP server addresses used for your account.
Step 2
Open Microsoft Outlook. If you are launching Outlook for the first time, click "Next" to start the setup wizard. If you have used Outlook previously, click on the "Tools" menu and click on "Account Settings."
Step 3
Choose your server type. Choose the type of server your GoDaddy account uses. Most GoDaddy users choose POP, unless they pay for an upgrade to IMAP. If they domain for your incoming mail server starts with "imap," choose it; otherwise, select POP. Click "Next."
Step 4
Enter basic account information. In "Your Name," type the name you want displayed on all outgoing emails. Next to "E-mail Address," enter the address of the account. Next, enter your password twice to verify it. Check the box to "Manually configure server settings" and click on "Next."
Step 5
Enter server information. Choose an "Internet E-Mail" account and click "Next." In the following page, reenter your display name and e-mail address. For "Incoming mail server," use the server you wrote down in Step 1 (often pop.secureserver.net). Do the same for "Outgoing mail server (SMTP)" (often the outgoing address is smtpout.secureserver.net). Finally, enter and confirm your password again. Check "Remember Password" if you do not want to manually enter your password each time Outlook connects.
Step 6
Click "More Settings." On the "Outgoing Server" tab, choose "My outgoing server (SMTP) requires authentication," and use the same settings as your incoming server. Now, click the "Advanced" tab and change port settings. For "Incoming Server Settings," IMAP uses ports 143 or 993 and POP uses ports 110 or 995. In "Outgoing Server Settings," use ports 25, 80, 3535 or 465. If you do not remember which port to use based on the account you purchased, simply try each until the connection is successful. After entering ports, click "OK."
Step 7
Test the connection. Click the "Test Account Settings" box. When the connection is successful, click "Finish." Your GoDaddy email account is paired.