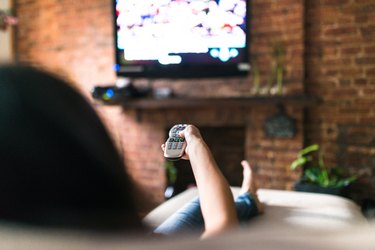 Online video streaming is more popular than ever, with the number of Americans who have at least one streaming service subscription now outnumbering those who pay for cable TV. With Hulu, you can watch thousands of TV shows and movies, from classics to last week's episodes of top prime-time TV shows. However, after you create a Hulu account, you need to get the content to your TV, a process that varies depending on your home entertainment setup.
Linking Hulu Using Streaming Devices
Before you start working on accessing Hulu from your TV, take a look at your various components. Many current devices come with the Hulu app already installed, including DVD players and video game consoles. If your device doesn't have the app, you may be able to install it following instructions available in Hulu's help section.
Before you pull up the app on your console, though, make sure you've completed the Hulu sign-up process. Inputting registration information on a computer or mobile device is usually easier than doing it using a remote. Even then, you likely need to use your remote to type in the username and password you chose when you created your account.
Get Hulu on Your TV
As with gaming consoles and DVD players, Hulu comes preinstalled on many newer TVs including recent LG, Samsung and Sony models. With these models, it's simply a matter of navigating through the available apps and opening up Hulu when you find it.
If you don't see Hulu among the options, check to see if there's a way to find additional apps. If you can't find it as an app, use the TV's web browser and do a search for Hulu and your TV model. This should give you a download link. You can also create a Hulu account, if you haven't already, through your TV's web browser.
Stream From Smartphone
Chances are, even if you think you don't have any streaming devices in your house, you actually do. Most smartphones not only support the Hulu app, but can cast content to your TV. One way is to use Google Cast, which works with any phone but requires a TV that supports it.
If you have an Android phone, there's another way to do things. After you complete the Hulu sign-up, you can start streaming on your phone and then go to the Google Home app and choose Cast Screen/Audio. Then, tap it a second time to start casting. As long as your TV is Google Cast compatible, you are able to see what's on your smartphone screen on your TV.
Watch Saved Hulu Content
Even if you have streaming devices or a TV that lets you watch Hulu, when you leave home, you lose that functionality. Fortunately, you may be able to download the shows onto your mobile device and then stream them to a TV after you're in your hotel room or at a relative's house.
Unlike other apps, though, your Hulu sign-up doesn't let you easily download shows to watch later. There are ways to do it. Here are a few options to look into after you create a Hulu account:
PlayOn Cloud: An app called PlayOn Cloud lets you record shows from Netflix, Hulu, Amazon Prime and many other streaming services and then play them back whenever you want, even if you aren't on Wi-Fi. The PlayOn Cloud app is available for both iOS and Android devices.
QuickTime Screen Recording: You can download QuickTime to your Windows or Mac computer and then record your screen by selecting File and New Screen Recording.
Movavi Screen Recorder: This app does an even better job than QuickTime at recording audio and video played on your screen. However, this option costs nearly $60.