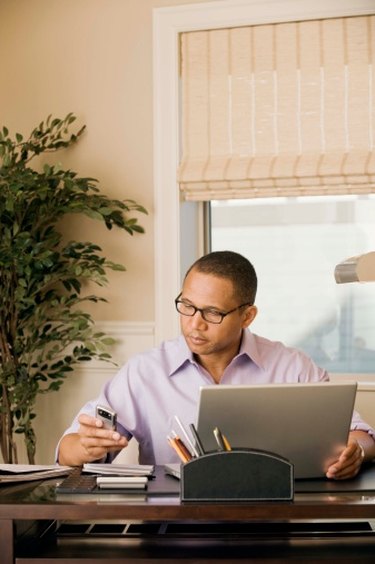 When you go to Facebook's home page to sign in, the necessary fields on the page request your email address and your Facebook password. This is somewhat misleading, as you actually do not need to log in with your associated email address. Instead, you can use your Facebook username (if you set one up), or a mobile phone number associated with your account to log in. Before you can use a phone number, though, you must add the number to your account.
Step 1
Direct your browser to Facebook's website and log in if you have not already done so. Use your associated email address or username to log in this time.
Step 2
Click the "Account" button in the upper-right corner of Facebook's home page, then click "Account Settings" in the list of options that appears. This takes you to a new page.
Step 3
Click the "Mobile" tab in the new page, then click "Register for Facebook Text Messages." Select your country and mobile carrier, then click "Next." This prompts you to text a letter to a specific number. Do so from the phone you want to add to your account, then wait a moment. You should receive a text message containing a confirmation code. Enter this code into the appropriate field in Facebook, then click "Next" again.
Step 4
Select your preferences on the new page that opens. You can choose whether and how often to receive text messages about various events on Facebook. Click "Save Preferences" when you are done. You have now successfully added the mobile phone number to your Facebook account.
Step 5
Click "Account," then "Logout." Enter your mobile phone number into the "Email" field and type your Facebook password into the "Password" field. Click "Login" to log into Facebook using your cellphone number.