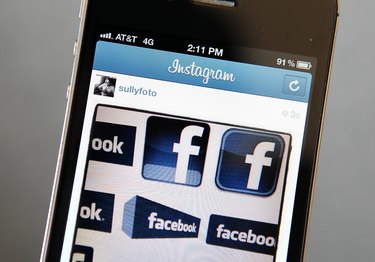 Facebook's mobile texts enable you to use your cellphone to update your business or personal page, upload photos, and respond to comments. The feature also allows you to receive and respond to Facebook notifications. To activate mobile texts, you send a message to Facebook and receive in return a confirmation code. If you don't receive the code, Facebook offers several suggestions that may help you fix the problem.
Carrier Problems
If you do not receive Facebook's confirmation code, your mobile carrier may not be supported by the social network. Facebook supports all major U.S. carriers, including Sprint, T-Mobile, and AT&T. Smaller carriers, especially those in other countries, might not be supported. To find out whether your carrier and country are supported, log in to Facebook and click "Account Settings." Click "Mobile" and "Add a Phone." Click the drop-down menu to view a list of supported countries, and then click the next menu to see compatible carriers.
Facebook notes that you might not receive a code if you've recently ported your phone number to a new carrier.
No Signature
If you've set your cellphone's text messages to have a signature, it may be interfering with Facebook mobile texts. A signature can prevent Facebook from sending you text messages, including notifications and a confirmation code. You can either temporarily disable the signature when sending texts to Facebook, or erase the signature completely.
Correct Country Number
Facebook can't send you a confirmation number if you don't send your request to the correct number for your country. In the U.S., Canada, and Mexico, regardless of your carrier, send Facebook text messages to the number 32665, or FBOOK. The number may differ if you are in another country. Click "Add a Phone" and select your country to find your number.
Alternatives
Facebook asks you to text the letter "f" to them to receive a confirmation code. If that doesn't work, Facebook suggests that you text "Fb" or "On" to them instead.
If you still cannot receive your confirmation code, you may not be able to use Facebook mobile texts. If your phone has a Web browser and you've subscribed to a data plan, though, you can access Facebook's mobile website. To access the site, go to m.facebook.com on your phone. From here, you can update your page without using mobile texts.