Serial numbers are used to identify specific machines and equipment by assigning a previously unused number to that particular device. Computers, cell phones, electronic merchandise, and even vehicles can be identified by a serial number. Looking up your specific serial number online can assist you in finding the software and support necessary for keeping your equipment working optimally. It can also help to identify the model of the device if it is not apparent by simply looking at the piece of equipment. With the right instruction, you will know how to look up your product's serial number to access this information.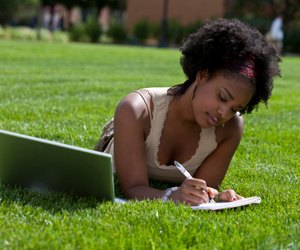 Step
Go to the device manufacturer's support, or product search, website. If you are wanting to look up your phone's serial number, go to the ESN, or Electronic Serial Number, lookup page.
Step
Enter the serial number from your device into the box labeled "Enter your serial number here" (or similar) field, then click "Search." The name of this field will vary, based on the product manufacturer's site, but it should include the words "serial number" in some form.
Step
Click "Find," or "Submit" to begin performing the search for your product based on its serial number. The results will show you a list of available documentation and software (if applicable) for that specific device.