The Windows taskbar displays open programs, and it contains the Windows start button. The taskbar is your one-stop source for several different computing operations. However, when you're not actively using the taskbar, it can get in the way. You can limit the taskbar's presence on the screen by lowering it, or even hiding it completely when it isn't in use.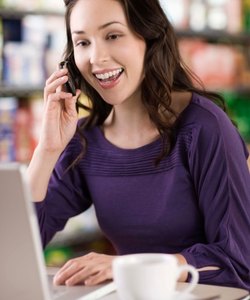 Lowering The Taskbar
Step
Right-click on the Windows taskbar.
Step
Click to uncheck the "lock the taskbar" option if it is currently checked. If the option is unchecked, leave it as-is.
Step
Hold the mouse over the top edge of the taskbar until you notice the pointer turn into two small arrows, one pointing down and one pointing up.
Step
Click and hold the left mouse button.
Step
Drag the mouse downward to lower the taskbar. If the taskbar is already in its lowest position, you will be unable to drag it any further. To lower the taskbar beyond its lowest position, you must hide the taskbar.
Step
Release the mouse button when the taskbar is in the desired position.
Hide The Taskbar
Step
Right-click on the taskbar.
Step
Click "properties."
Step
Check the "auto-hide the taskbar" option.
Step
Click "OK." When your taskbar is not in use, it will lower itself automatically, disappearing off the bottom of the screen. To raise the task bar back into a visible portion of the screen, simply hold the mouse over the bottom area until the taskbar reappears.