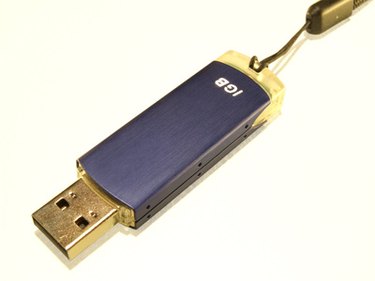 A flash drive (also called a thumb drive) is a small device that connects to your computer via a USB port. Each flash drive contains enough space to hold songs, movies, documents and even software applications. There are no moving parts, making flash drives much more durable than other drives. Many people carry a flash drive with them at all times, whether in a purse, on a key-chain or in a pocket. Because of their size and durability, mailing a flash drive to another person is not particularly expensive or worrisome. In the event that you do have to mail a flash drive, you can follow a few steps to ensure that it arrives safely.
Step 1
Go to your local office supply store and purchase a small, padded envelope. Do not use a regular envelope to mail a flash drive, since the corners of the drive might tear the paper, and there is nothing to protect the flash drive from being damaged in transit.
Step 2
Address the envelope, then put the flash drive in the padded envelope and seal it. You may secure it with extra tape if you like.
Step 3
Take the package to the nearest Post Office, FedEx or UPS location.
Step 4
Purchase postage for your package and leave it with the customer service representative. The price of postage is determined by several factors, including the size and weight of the package, how quickly you want it delivered, whether or not you require delivery confirmation and whether or not you purchase insurance.
Step 5
Track your package online if you want to know when it has been delivered (Note that you can only do this if you purchased delivery confirmation).