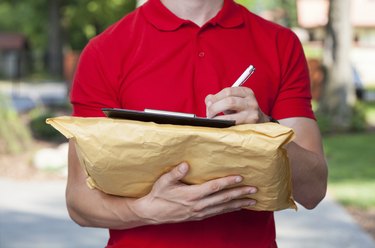 A tracking number is a unique ID number assigned to your package when you mail or ship it. The number is represented on the shipping label as a bar code that can be read with a bar code reader. As the package moves from where you drop it off or have it picked up -- such as a U.S. post office or FedEx or UPS outlet -- until it is delivered, it passes through several hands, from the person who loads the package onto a truck to the person who delivers it to the recipient. At each point the bar code is scanned, recording the location of the package.
Using a Tracking Number
Go to the website of the shipper, such as UPS.com for United Parcel Service. In the specified space, enter the tracking number found on your receipt, which may have as many as 35 digits. Follow the instructions, clicking for instance Track or Find. The times and places the package bar code was scanned will be displayed on the site. UPS and other carriers such as Fedex and USPS also have the option to sign up for text or email alerts to provide ongoing status updates for your packages until they are delivered to your residential or business address.
Missing Package
If your package is not continually moving through the shipping system or has not been delivered within your expected time frame, you can request that the shipper take steps to locate your package. For service from the USPS, you can complete a delay mail report, contact customer service by email, or visit your local post office. The UPS website offers options for email, telephone and live chat. To contact FedEx, call 1-800 Go Fed Ex.