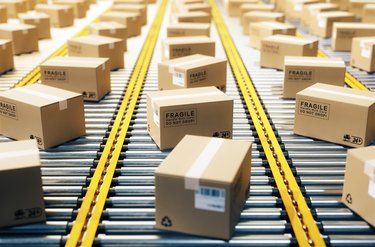 Whether you're buying another collectible as a long-time member or purchasing your first item using a guest order, eBay makes it easy to track the status of your order and find out when you can expect your purchase to arrive. Often, getting your order status and tracking number is as simple as checking your email account for messages from eBay, but you can also track your order on the eBay website at any time. Some other options include checking your PayPal account and reaching out to the seller.
Check Your Shipping Notification Email
Whether you completed your eBay order as a guest or have created your eBay account, an easy way to track a package is to check the email account associated with your purchase. You'll want to search for an email from eBay with "order update" in the email subject since this indicates the order was shipped.
Often, the tracking number will be shown prominently in the email body, and you'll also find a "Track Order" button that takes you to the order info on the eBay website. Alternatively, you can copy that tracking number, visit the postal carrier's website and paste the number in the site's tracking tool.
In some cases, you won't see a tracking number in the email. This might mean your seller didn't buy the postage through eBay, didn't use a trackable shipping method or mailed it in person and forgot to update the status.
Using My eBay Tracking
If you're an eBay member, you can log in to the site and track your orders through My eBay. Click the "My eBay" link on the navigation bar and select "Purchase History" on the left panel. This shows a list of your orders within the past 60 days; orders past 60 days will no longer show any tracking details.
Below each item name, you'll usually see the tracking number and estimated delivery date. Clicking that tracking number brings up more details about the item's journey in transit.
Track an eBay Guest Order
When you place a guest order on eBay, you won't be able to log in and see order details as you usually would. Instead, you'll need to locate your guest order email in your inbox. If you can't locate this email, you can visit https://www.ebay.com/help/guest-order and look up your order details as long as you know the email address used and the purchase date. You should receive an email after you submit your request.
Your guest order email will have a button that says "View Order" along with an access code. You'll click that button and type your access code and email address when prompted on the eBay website. On the order details page, you can select the tracking option, if available, to find out where your package is.
Track Through PayPal
Another eBay tracking method is to log in to your PayPal account if you used the service to pay for the item. Sort through your "Recent Activity" to look for the transaction. If tracking is available, you'll see a "Track Shipment" button below the payment title. Clicking that will go directly to the carrier's website and show you the package's details and status.
Consider Contacting the Seller
If the other methods fail, or you notice that your package hasn't been shipped within the expected time frame, it's worth contacting the seller through eBay. Logged in as a guest or member, look for an option beside the item name that says "More Actions." This will bring up options that include "Contact Seller."
The eBay support tool will ask you to select a reason for contacting the seller, and you can select the option that fits your case, such as "I didn't receive my item." Click "Contact the Seller," write your message about the shipping status and then click "Send Message."
If the seller refuses to respond within a few days, consider filing a claim with eBay's Resolution Center. The site will try to get in touch with the seller, and if that fails, you'll likely get to cancel the transaction and get your money back.