Insert Excel's SmartArt graphics to create a hierarchy layout for your family tree. Adapt a time-saving organization chart to display each member's name and relation to a common ancestor. For example, each row of graphics can represent a different generation on a hanging layout. Options on the SmartArt Tools ribbon enable you to add more shapes to represent additional family members and to style the fonts for readability. Before you start entering the text, take the time to research the details, such as full names, birthdays, marriages and deaths, to help you stay organized and archive the correct data.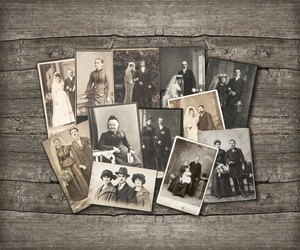 credit: LiliGraphie/iStock/Getty Images
Insert the Hierarchy Layout
Step
Click the "Insert" tab on the command ribbon and then click "SmartArt" in the Illustrations group to open the Choose A SmartArt Graphic dialog box. Scrolling panes display the type of graphics, such as List, Hierarchy and Pyramid, and a gallery of thumbnails.
Step
Select "Hierarchy" in the sidebar to bring up the Hierarchy thumbnails. Examples of layouts include "Organization Chart," "Picture Organization Chart" and "Horizontal Hierarchy." Select a thumbnail to preview a color version and description. For example, click "Picture Organization Chart" and then click "OK" to copy this hanging layout to the worksheet. A faint border includes sizing handles. The SmartArt Tools ribbon will display the Design and Format tabs with styling options.
Step
Click the border to change the cursor to an icon with four arrows and then move this chart to the preferred position on the worksheet. Click and drag a sizing handle to change the dimensions and display all the graphic elements.
Adapt the Layout
Step
Select a shape to update with the SmartArt tools. For example, to add a shape to represent another family member, select a shape on the worksheet, click the "Design" tab on the SmartArt Tools ribbon and click the "Add Shape" arrow button in the Create Graphic group. Select "Add Shape After" or "Add Shape Before" to insert a duplicate shape on the same row on a hanging layout, for example. Other Add Shape options will insert shapes above or below the selected graphic.
Step
Select a shape and then select "Promote," "Demote," "Move Up" or "Move Down" in the Design tab's Create Graphic group to rearrange the shapes on the tree's layout.
Step
Click any shape and click the "Design" tab on the SmartArt Tools ribbon. Click the "More" button in the SmartArt Styles group to open the gallery of thumbnails. Point over a thumbnail to preview the effect on your shapes. Examples include "Cartoon," "Polished" and "White Outline." Click the preferred thumbnail to update the chart's style.
Step
Enter names and details, such as dates, to build your family tree. Select the text and style the font with the Font group options on the Home tab. For example, select a Theme color sample in the Font Color chart to emphasize one branch of the family.
Step
Press "Ctrl-S" to save this workbook.