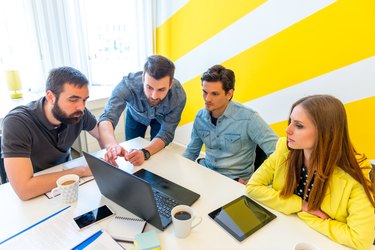 By default, most players stop playing after a video reaches its end. However, most video players, such as Windows Media Player, Media Player Classic, VLC Media Player and Gom Player, offer a repeat feature, which allows you to play your video in a continuous loop. Depending on the software, the procedure may differ, so if you are unsure how to access this feature in your player, explore the typical places where it may reside.
Step 1
Double-click the video file from Windows Explorer to launch your default video player. If you have not installed any additional players, then the default player will be Windows Media Player on your Windows 7 computer.
Step 2
Right-click the video and check "Repeat" from the context menu in Windows Media Player. Alternatively, hold the "CTRL" key and press "T" to enable the feature. Some players, such as Gom Player, place this selection in the context menu's Playback group and label it "Repeat Playlist."
Step 3
Look for a control button at the bottom of the player for toggling the repeat feature. This button appears as two arrows, arranged in a circle, in VLC Media Player. If you hover your mouse pointer over the button, most players display a tool tip describing the button. Look for "Repeat" or "Loop" to find the one that controls continuous play.
Step 4
Search the Options window if you cannot find the feature otherwise. In Media Player Classic, you can access the Options window by clicking "View" and then "Options." The option appears under the Playback second and is labeled "Repeat Forever." Check this option and click "OK" to repeat the video.