Projectors offer a much larger, and sometimes even clearer, picture than the latest high-definition televisions. Their portability makes them ideal for an office space where one projector is needed for several different presentation rooms. And at home, the sheer size of the picture a projector is able to generate is unrivaled by any of the largest flat-screen televisions currently available on the market, all at a fraction of the price. Adjusting the picture of the projector is key to obtaining the best picture quality possible, especially its brightness.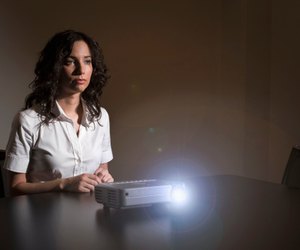 Step
Press "Menu" on the projector's remote control. If the projector doesn't have a remote, there will be a button labeled "Menu" on the top or bottom of the projector -- most likely adjacent to the "Off/On" switch.
Step
Select "Display" from the menu.
Step
Select the "Adjust Brightness" option under the "Display" menu.
Step
Use the directional arrow buttons on the projector's remote control, or on the projector itself, to increase the brightness of the projector's picture. This will most likely be graphically depicted as a cursor moving left or right, or up or down, a number line.