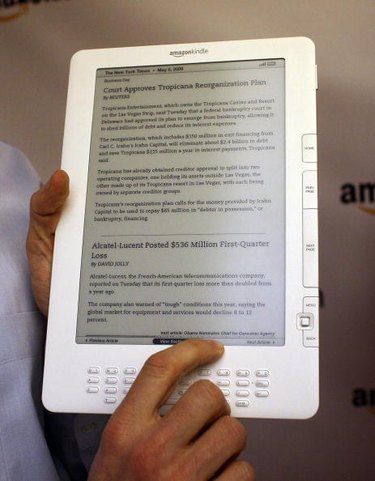 The Kindle's small size and large storage capability allow you to read your favorite books, magazines and newspapers almost anywhere. However, if the default font size is to small for you, it can make reading difficult. The Kindle has many customizable settings available to help you personalize and increase your reading pleasure. One such setting is the ability to increase the font size of the content in your Kindle.
Step 1
Open the book, magazine or newspaper you want to read on the Kindle.
Step 2
Press the "Text" key. The text key is located on the right-side of the bottom row of the keyboard. The key has a large capital "A" and a small capital "A" printed on it. The text size options are displayed on the screen.
Step 3
Press the 5-way controller to the right to select a larger font size. Each new font size you select is immediately reflected in the document's text size on the screen. Scroll through the larger sizes until you find the one you like.
Step 4
Press the "Text" key again to chose the new larger font size that you selected. If you want to choose a different size, repeat the process.
Warning
The font size on your Kindle cannot be increased in PDF files, menus or Kindle screens.