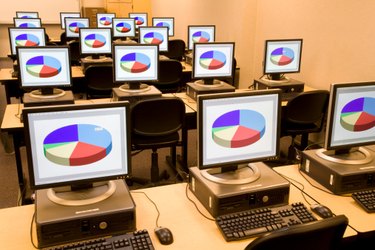 It is possible to change the magnification of your computer screen to suit your preferences. You can zoom in or out on elements on your screen as desired. Doing so requires changing the configuration of your computer's display and screen resolution settings. Once completed, you will readily notice the difference in the magnification of visuals on your screen.
Step 1
Go to your computer's menu bar and click the "Start" button. Click the "Control Panel" from the side window that appears.
Step 2
Click the "Display" icon from the "Control Panel" window.
Step 3
Click the "Settings" tab from the "Display Properties" menu. Note that this option may differ slightly depending on the version of Windows operating system you are using. Some may actually require clicking the "Appearance and Personalization" from the "Control Panel" window.
Step 4
Go to the adjustment bar labeled "Resolution" or "Screen Resolutions," which shows a slider bar where you can manually adjust the screen resolution of your computer monitor. This allows you to make the elements on the screen appear larger or smaller. Make the screen elements the size that suits your preference. Take note that some Windows versions may require clicking the "Adjust Screen Resolution" option or similar wording.
Step 5
Click the "Apply" button. Wait until the new display setting is applied to your screen, which will usually show a few seconds of black screen until a dialog box prompts you to either cancel or keep the new setting. Click "Yes" from the dialog box to complete the change. Note that some options may provide additional options, such as "Keep" to use the new resolution recently applied or "Revert" to go back to the previously set resolution.
Tip
You also may keep your computer's display and screen resolution settings the same and just change the size of fonts and images you see on Web pages you browse. Press and hold "Ctrl " and "+" and "Ctrl" and "-" while in your browser. These options make website elements look larger or smaller, respectively. This option works in most browsers, including Internet Explorer, Mozilla Firefox, Google Chrome and Safari.
Warning
Since your computer monitor is actually set to a specific display and resolution setting, changing its native resolution may show elements that don't exactly look right on screen. This is because these items are laid out to look their best when the default display and resolution setting is used. For instance, when making the text and the rest of the visuals smaller, their layout on screen won't fit well with the size of the actual screen.