Free Internet connection, often known as Wi-Fi, is often used in public places like libraries, coffee shops, restaurants, airports, academic institutions and recreational centers. If you own a business and wish to build your Wi-Fi for your customers, you can do so with the help of a wireless router. Note that you will need an active broadband/DSL connection to create a Wi-Fi environment. The key is to keep your network open. In other words, do not secure the network with any password.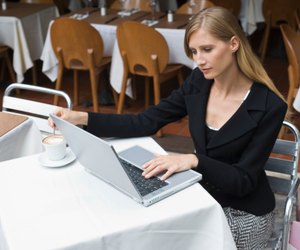 Step
Use an Ethernet cable to connect your wireless router to your existing cable/DSL modem.
Step
Turn on your cable/DSL modem. Turn on your wireless router. Wait until the yellow lights start flashing on both the modem as well as the router.
Step
Use another Ethernet cable to connect your wireless router to the Ethernet port on your computer.
Step
Launch your preferred Web browser. Type your wireless router Internet Protocol (IP) address on the address bar. The IP address of your router is written on the manual. The address depends on the brand and model number of your wireless router.
Step
Type username and password when prompted. This information is also provided to you in the manual.
Step
Type a name for your Wi-Fi connection. If you own a business, try to use your business name as the network name, also known as "SSID."
Step
Ignore the step about network authentication (WEP/WPA). You do not want to password-protect your network since it is a free Wi-Fi and thus, available to all customers.
Step
Create an administrative password for your account. You will use this password to change your router configurations. Save the changes by clicking "Apply" or "OK" depending on the router menu.
Step
Unplug the Ethernet cable from your computer. Unplug the other end from your router.
Step
Use your computer to test the Wi-Fi connection. Restart your computer. Right-click the network icon at the bottom right corner of your screen. Click "Connect to a network." Choose the Wi-Fi connection that you just created. Hit "Connect." Open your Web browser to make sure you are connected to the Internet.