The PUB extension is assigned to files created in the Microsoft Publisher application. To read or print a PUB file without Microsoft Publisher, convert the PUB file to PDF format using an online utility, and view or print the PDF. To edit a PUB file without Microsoft Publisher, open the file using the free and open source LibreOffice Draw application.
Read or Print the File
Converting a PUB file to PDF format enables you to view and print it on almost any computer or operating system. Several websites convert PUB files to PDF files for free, including Online2PDF, Zamzar and PDFConvertOnline.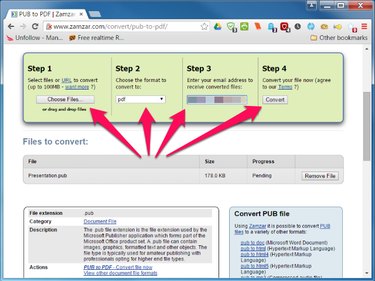 Each of these sites operates similarly. Open the site and follow the step-by-step instructions. You must select your PUB file and, depending on the site, you may need to set the output format to PDF and enter your email address. Then press the Convert or Convert Now! button.
When the conversion is complete, the site either downloads the file automatically, emails you a download link or launches a Web page containing the download link.
These sites work well if all you need to do is view or print the PUB file. But the converted PDF file is not editable like a normal PDF file, even if you have an application that can edit PDF files.
Edit the File
LibreOffice is an open source suite of applications similar to Microsoft's Office suite. LibreOffice's Draw, version 4.0 and above, for both Macintosh and Windows, can open and edit Microsoft Publisher files.
Step 1
Open LibreOffice Draw, click on the File menu and select Open....
Step 2
Browse and select the PUB file to edit and press the Open button.
Save the File in Alternate Formats
The PUB file is imported into LibreOffice Draw as a fully editable document; however, the file is not compatible with other word processing, presentation or drawing programs; you can save the imported file only in one of the ODF Drawing format file types (ODG, OTG, or FODG). To save the document in a format other than ODF Draw:
Open the PUB file using LibreOffice Draw.


Create a document in another LibreOffice application that supports the format you want to save in. For example,

to save in Microsoft Word format, create a new document in LibreOffice Writer.


Copy and paste each individual element of the drawing (individual text boxes, images and objects) from the LibreOffice Draw window into the window containing the new document.

After being copied, each individual element can be edited separately in the new document, and the document can then be saved in any format supported by the selected LibreOffice application.