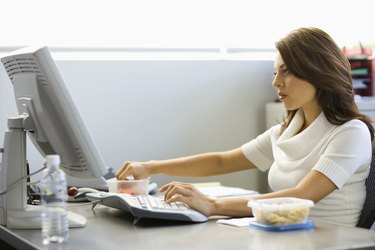 A zip file is an archive that compresses large files so they take up less space for storage and transmission through the Internet or email. However, very large files may prove to big for convenient handling even when compressed. In that case, the zip utility can split the archive into several split zip files, each of which are individually smaller than the complete archive. Opening them requires either the Windows XP operating system or an unzip utility.
Preparing
Step 1
Click "Start" and select "All Programs" and click "My Computer" to display the My Computer window. Navigate to the drive and folder in which the split zip files are located.
Step 2
Choose "File" and "New" and then select "Folder" to create a new folder. You can optionally rename this folder. You can create this Folder in a location that differs from that of your zip files. However, doing so will require multiple "My Folder" windows for convenient dragging and dropping.
Step 3
Drag all related split zip files into the folder you just created. These files will have the same name with a sequential number designation after the first in the series. For example, if you have the split zip files Test.zip, Test.001.zip and Text.002.zip, the first file is Test.zip. You must have all the related split zip files. If you are missing any of these files, you will not be able to open any of them.
Opening with Windows XP or greater
Step 1
Double-click the first file in the split zip sequence if you have Windows XP or greater. The Open With dialog box appears.
Step 2
Select "Compressed (zipped) files" and click "OK." The system automatically joins the pieces and decompresses the final archive in the same location as the first split zip.
Step 3
Test the decompressed file by double-clicking it.
Alternatives
Step 1
Download, install and run a compression utility like Zip Genius, QuickZip or Zip Reader, if you do not have Windows XP or later versions. The program window appears, which for this example, is Zip Genius.
Step 2
Choose "File" and "Open" to display the Open dialog box.
Step 3
Navigate to the location of the split zip files and double-click the first of the files. The contents of the file appear in the program window.
Step 4
Click "Extract" to display the Extract dialog box. Navigate to the location in which to extract the archive and click "Extract." The decompressed file is extracted.
Step 5
Test the decompressed file by double-clicking it.