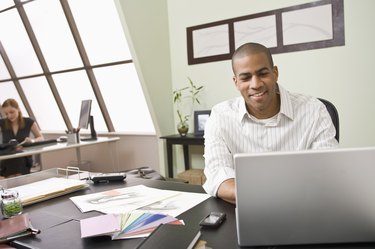 Multimedia files, multi-player games and complex software can be too large for convenient storage. Compressing these behemoths into zip archives is one way to make them easier to manage and transmit via email or the Internet. However, if the zip files themselves prove too big, they can be split into smaller archives that must be rejoined for extraction. You can recognize these files because they share the same name but have sequentially numbered extensions such as .001, .002 and .003.
Step 1
Click "Start" if you have Windows XP or later versions and choose "Programs," "Accessories" and "Windows Explorer." The Windows Explorer window appears.
Step 2
Navigate to the folder containing the zip files by double-clicking drives and folders to open them.
Step 3
Choose "File" from the Windows Explorer window and select "New" and "Folder" to create a new folder. You can optionally rename this folder by right-clicking it and choosing "Rename."
Step 4
Drag the split zip archives into this new folder. Open the folder to reveal its contents. All the pieces of the complete zip must be in the folder or you cannot extract them.
Step 5
Right-click the first zip file and choose "Open With" and then "Compress (zipped) Folder." The original file appears in a new window.
Step 6
Click "Extract All Files" in the Folder Tasks pane on the right side of the window. A wizard is displayed. Specify a location for the extracted archive, which by default is the current folder. Then go through the wizard to complete extraction.
Step 7
Download and install a stand-alone decompression program like Quick Zip, Zip Genius or Zip Reader, if you have a version of Windows that is earlier than XP. Run the program and choose "File" and then "Open" so you can load the first split zip file. Then choose "Extract" in a button or menu to extract the original archive.