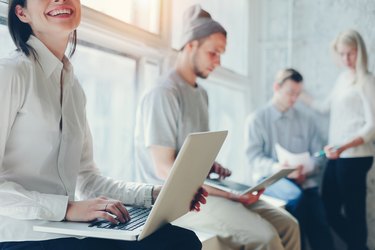 Apple's iMovie is a video editing application that is included in the iLife media creation suite. If users want to overlay an image onto their video footage in iMovie, they can do so in just a few clicks. Overlaying an image on a video can provide a convenient solution for watermarking clips or branding a movie. But before users can access this feature, they will need to activate it in iMovie's application settings. Once the image overlay has been applied in iMovie, users can export a digital video file from the editing project.
Step 1
Launch iMovie. Go to the "iMovie" tab on the program menu and select "Preferences." A programming window will appear. Check the box for "Show Advanced Tools." Close the window.
Step 2
Go to the "File" tab and select "Import Movies." Browse for the iMovie-compatible video (in MOV, MP4 or DV format) in the file selection window. Select the item and click "Choose" to import the file into the application. The media will appear in the "Event" timeline.
Step 3
Drag the imported video from the "Event" timeline and drop it into the "Project Library" window.
Step 4
Locate the image file you want to overlay in iMovie. Drag and drop the item over the imported video in the "Project Library" window. A pop-up menu will appear. Select the "Picture in Picture" option. The image overlay will be applied to the video.
Step 5
Adjust the duration of the image overlay by dragging the ends of the clip to a desired running time.
Step 6
Move the image overlay in the viewing area to its desired position on the video. Drag the corners of the image overlay to resize its dimensions.
Step 7
Got to "Share" on the program menu and select an encoding option to export the video with the image overlay. Follow the on-screen instructions to save the media to a preferred storage location.