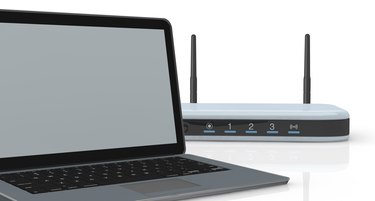 By password-protecting your wireless router, you protect your network from intrusion by unauthorized users. In most cases, these uninvited guests are mere nuisance, stealing your bandwidth so they can use the Internet for free. Sometimes, however, network intruders use your network to try and steal information from connected computers. Password-protecting your network is done entirely through your router's administration panel.
Getting Your Router IP Address
To sign in to your router's administration panel, you need the router's IP address. Typically, routers use 192.168.1.* or 192.168.2.1 as the IP address. In cases where they don't use this address, however, the Command Prompt's ipconfig command reveals it.
For Windows 8, press Windows-X to open the Power User menu, then select Command Prompt. For Windows 7, press Windows-R, enter cmd in the Run field and click OK.
In the Command Prompt, type ipconfig and press Enter. The heading you need depends on how you're connected to the router: Wireless LAN Adapter Wi-Fi if you're using Wi-Fi, Ethernet Adapter Ethernet if you're using a wired connection. The number listed as the Default Gateway is the router's IP address.
Logging in to Router Administration
Open your preferred browser and enter the router's IP address in the address bar. The router administration panel's login screen varies on two conditions: The router's make and whether a custom login has already been set up. Typically the default login and password will both be admin, but check your owner's manual to make sure. If you set up a custom login, then use the credentials you created.
If you don't remember the credentials, the only way to access administrative controls is to reset the router to factory defaults. Consult your owner's manual for instructions on resetting your router.
Enabling Wireless Security
To enable a password on your wireless connection, click the Wireless heading. While the exact menu used varies from one router manufacturer to the next, typically the option for encrypting the wireless connection is listed under Wireless Security, Security or Primary Network.
Look for the security options and select to enable WPA-PSK or WPA-PSK2 encryption. Enter a custom password in the appropriate field, typically marked Password, WPA Key or Passphrase. Make sure the password is a mix of upper and lower-case letters, numbers and symbols to increase its strength. If necessary, jot down the password so you have a reference when adding new devices.
Renaming and Hiding SSID
Renaming and hiding your SSID reduces the risk of unauthorized users discovering and connecting to your router.
On the Wireless menus, look for the Network Name, or SSID text field and enter a custom name that is easy to remember. This option alternatively can be found on the Wireless Security, Primary Network or Setup pages.
Find the setting marked Wireless SSID Broadcasting or SSID Broadcast and set it to Off or Disabled. The SSID no longer appears in network lists, unless manually entered during connection setup.