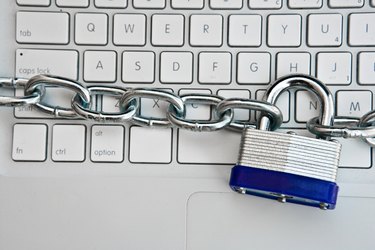 Sharing a computer with other people can be a hassle, especially when you have files and folders that you don't want others to view. You can't use a password to protect files and folders in Windows. But you can keep files and folders private by setting up separate user accounts and restricting access on individual folders.
Step 1
Right-click on the folder that you want to make a password for. Select "Properties" from the pop-up menu that appears.
Step 2
Click on the "Sharing" tab at the top of window. Click the "Advanced Sharing" button. If you are requested to enter your administrator password, enter it. The Advanced Sharing dialog appears.
Step 3
Check the box next to "Share this folder" and then click "Apply." Then click the "Permissions" button. The Permissions dialog appears.
Step 4
Select the desired group or user name in the Group or user names section. If the name doesn't appear, click "Add" to add a group or user name. The Select Users or Groups dialog appears. Add a name in the appropriate field. Verify the name by clicking "Check Names." Click "OK" to store the added name and return to the Permissions dialog.
Step 5
Navigate to the Read line and check the box under "Deny." Click "Apply" and "OK" when done. The folder is now password protected.
Step 6
If your file is zipped, then the process is a lot simpler. Double-click on the zipped folder and then click "File" and "Add Password." After filling out the request information, click "Apply." Your zipped file will always ask for a password before it can be opened. Putting a password on folders and files is a quick and easy way to maintain privacy when your computer is shared with multiple users.