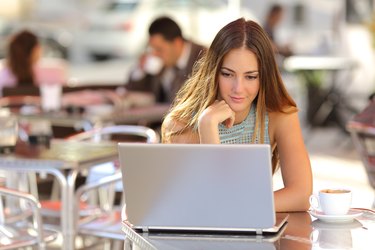 SopCast is a handy video streaming program with an imperfect built-in video player. The internal player in SopCast is modeled on an early version of Windows Media Player, and while some streams load without difficulty in the player, not all streams do. You can overcome poor video streaming by coupling SopCast with VLC Media Player to watch live streams of Web broadcasts.
Replacing SopCast Media Player
Step 1
Download the newest version of both SopCast and VLC Media Player. Both of these programs are free.
Step 2
Open SopCast and log in to the service. To use SopCast, either create a user account with the service or use it anonymously each time you open the program. After the program opens to the main screen, click the "Option" button at the bottom of the main window. Under "Choose the external player," click the button beside "Use my own media player" and then click "Select." Use the file browser to locate the program file for VLC Media Player (usually "C:\Program Files (x86)\VideoLAN\VLC\vlc.exe", though on Windows XP the folder will just be "Program Files"). Click "OK" to accept your changes and close the Options window.
Step 3
Exit SopCast and then open it again. Log in again and then open a channel to watch, either from the list of from a website with a "sop://" address.
Step 4
Wait for the channel to buffer to its maximum. By default, SopCast launches the default player in its small form beside the channel list. Click on the leftmost button on the media player window (the two windows on top of one another) to launch the external player. SopCast opens VLC -- which you chose in Step 2 -- and loads the stream automatically.
Stream in VLC Via SopCast
Step 1
Perform Steps 1 through 3 as in Section 1.
Step 2
Launch VLC separately if you want to control the stream using VLC. Click on "Media" and then "Open Network Stream."
Step 3
Click "Show more options" if you want to control the bandwidth dedicated to the stream or to tie a different audio file to the video.