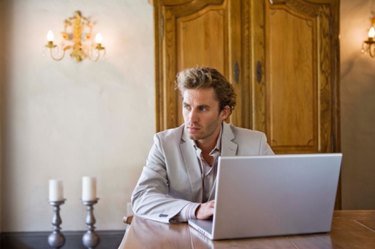 The popular Facebook social networking website is a great way to keep in contact with friends and colleagues, and seems like a good way to keep your resume in circulation. However, Facebook does not have a native interface for uploading a resume document to your Facebook page. To fix this limitation, Facebook has partnered with the Scribd online document service. You can upload your resume to the Scribd website and immediately publish the document to your Facebook feed with a single click.
Step 1
Save your resume to your computer in PDF, DOC, RTF or TXT format.
Step 2
Navigate your Web browser to the Facebook website at facebook.com. Log into Facebook with your email address and password.
Step 3
Navigate your Web browser to the Scribd website at scribd.com. You will be automatically logged into the Scribd service with your Facebook login information.
Step 4
Click "Upload" in the center of the window.
Step 5
Navigate to the folder on your hard drive that contains your resume document. Highlight the document and click "Open."
Step 6
Click "OK" to confirm you are not uploading copyrighted content to Scribd. The document will be uploaded to the Scribd website and will appear as the top document entry in your browser window.
Step 7
Type a title for your document in the "Edit title" field and select "Resumes/CVs" from the drop-down menu. Click the check box next to the blue Facebook "f" logo and click "Save." Your resume is now shared on your Facebook page.