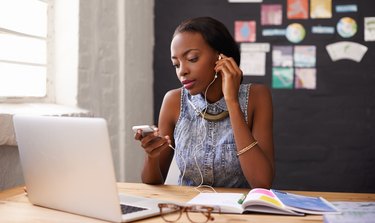 With iTunes software, which is available as a free download for both Mac and PC systems, you can print covers for albums that you purchase from the iTunes Store or import onto your computer. To print an album cover and song listing, you must have the artwork associated with the album you wish to print. Album artwork can be added manually, or it can be automatically retrieved from the iTunes Store.
Step 1
Launch the iTunes application by clicking the icon in the Dock on a Mac or by using the Start menu on a PC.
Step 2
Click "Music" in the sidebar on the left side of the screen underneath the "Library" heading.
Step 3
Double-click the album that you wish to print a cover for.
Step 4
Go to the "File" menu at the top of the screen, and choose the "Print" option.
Step 5
Select the "CD jewel case insert" option in the print menu, then choose "Single cover" from the drop-down list of themes.
Step 6
Click "Print," and select your printer. Click "Print" again if you are on a Mac, or click "OK" if you are on a PC.