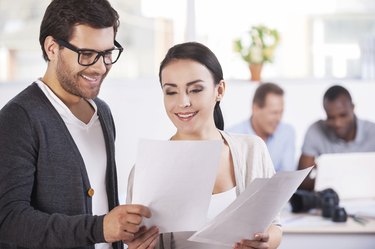 Whether you're penning your next great novel or collaboratively working on a document with your co-workers, using Microsoft Word's comments and revisions features enables you to view changes made to your document while reading critiques and comments from your collaborators. While you can print the comments along with your document, printing the comments separately gives you a play-by-play recap of every comment and change made, useful for sorting through large collaborations or working with an exacting copy editor. You can select whether to print the entire document, or print only a list of the comments and changes, from the Print menu.
Step 1
Open the Word document with comments that you'd like to print.
Step 2
Turn on comments and changes by clicking the "Review" tab and selecting "Show Markup" from the Tracking group. If the check mark is selected next to "Comments," you are good to go. You can enable or disable comments by clicking this menu option.
Step 3
Click the "File" menu and select the "Print" option. Click the menu labeled "Print All Pages," then select "List of Markup" and click "Print" to print only the comments and changes made to your document.