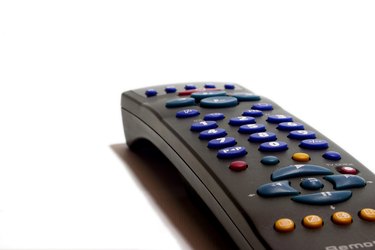 The remote control that came with your Dish Network service is a universal remote capable of operating many different components in your home theater system. Each component has a specific code that the remote control uses to operate each piece of equipment. If you don't know each component's code, don't panic; you can search for the codes with your Dish Network remote.
Step 1
Turn on your TV to set the remote control code for this component. There are four translucent function buttons at the top of the remote. They are translucent because they light up red to indicate engagement of the button by being depressed, as well as to indicate which of four modes is being utilized by a corresponding depression of another button on the remote. These are: "SAT," "TV," "VCR" and "AUX." Press and hold the translucent "TV" function button at the top middle-left hand side of the remote until all four function buttons light up.
Step 2
Release the "TV" function button.
Step 3
Quickly press and release either the smaller red TV power button or the singular red power button depending on remote model. The "TV" function button will blink and then light steady.
Step 4
Use the up/down navigation arrows to find the code for your TV. Start by repeatedly pressing then releasing the up arrow until your TV powers off. Each time you press the button, the "TV" function button will blink. Take a moment between each press of the button to allow your TV to respond by powering off.
Step 5
Lock the code by pressing and releasing the pound "#" key at the bottom right hand side of the remote once your TV powers off. Set the remote back to SAT mode by pressing and releasing the translucent "SAT" function key at the very top left of the remote.
Step 6
Repeat this process for two other components by assigning one to your "VCR" button and one to your "AUX" button.
Tip
Throughout the procedure you must point the remote at the TV's IR receiver. There must be no obstructions between the remote and the TV. If you pass your code by pressing the up arrow too quickly again after the TV powers off, quickly use the button on the TV to power it up again. Immediately start using the down arrow to go back to the correct code. When you get there, the TV will power off. Allowing too much time to elapse between steps will cause the remote to exit the programming function causing you to start over again.
Warning
If you are now going to use the Dish Network remote control to operate the functions of your television on a daily basis and don't foresee a need to use your OE TV remote, then you should remove its batteries to avoid corrosion damage.