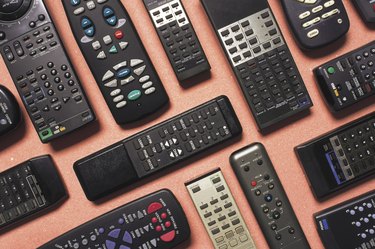 JVC's more elaborate TV remotes don't just turn the television on and off, change channels and adjust the volume. They are programmable and allow you to program a specific channel to return to while scanning through the channels using the plus and minus channel buttons. You can also program the remote to save channels you like as favorites. Other programming functions on the remote include programming a timer. Programming the JVC TV remote can be accomplished by following some steps.
Step 1
Program a Return channel. Turn the television on with the On/Off button. The button is usually at the top right of the remote control on the remote controls supplied with JVC's LT-series televisions. Use the Channel Up and Down buttons to select a Return channel. Press the "Tune" button and the "Return +" button simultaneously and the remote will be programmed to go to your Return channel when you press the "Return +" button.
Step 2
Program Favorite channels. Use the Channel Up and Down buttons to select a channel you'd like to be programmed as a favorite. Press the "Favorite" button. A list will appear. Press the "Favorite" button again to register the channel. Simply press the "Favorite" button and then the Up and Down buttons to scroll through your registered Favorites. Press the "OK" button to select one.
Step 3
Program the timer to turn the JVC TV on or off at a specific time. Press the "Timer" button on the remote control and using the arrow buttons, choose the "On Timer" time. Set the channel number at the "Input" field" and press the "OK" button. The television will turn on when it reaches the set time. Follow the same procedure for the Sleep Timer. Simply use the arrow buttons on the JVC TV remote control to program the number of minutes the television should remain on before switching off.