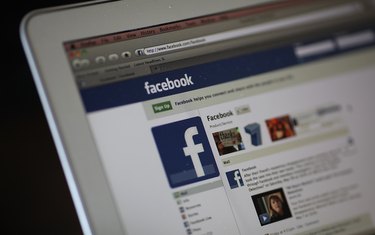 Facebook's chat program allows you to insert smileys into your conversation, but Facebook does not offer an option to add moving smileys to your status updates. You can use Facebook's moving smiley app to post moving smileys to your status updates, a friend's Facebook wall or in a Facebook site email. You can choose what type of smiley you want to send based on your mood or the occasion. Smileys can also be sent to a select group of friends or you can choose to send a moving smiley to all of your Facebook friends at one time.
Step 1
Open your browser, and visit the Facebook website at facebook.com.
Step 2
Login to the Facebook website using your email address and password.
Step 3
Navigate to the "Special Smileys" app page on facebook.com
Step 4
Click on the "Add to My Page" link on the left side of the screen.
Step 5
Click on the "Add to Page" button next to the page you wish to add the app to, and click on the "Close" button.
Step 6
Click on the "Go to App" button at the top of the screen.
Step 7
Click on the "Allow" button to let the app access your basic information on Facebook.
Step 8
Select the moving smiley you want to display or send.
Step 9
Choose the friends that you want to send the smiley to or click on the "Skip" button to display it to everyone.
Step 10
Click on the "Send" button to display your smiley.