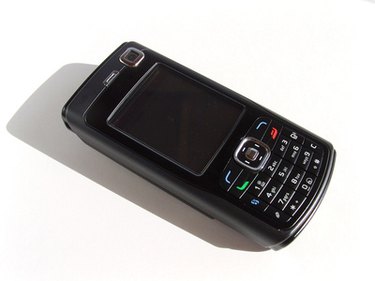 Practically all cell phones now come with built-in cameras. With the convenience, and the fact that picture quality has greatly improved, it's easy to see why many people take pictures with their cell phones. It's not always easy to get those pictures off a cell phone and onto a computer, but it is possible to transfer pictures from most cell phones.
Step 1
Identify your cell phone's brand and model. If you look at the user manual for your cell phone, it should clearly say the brand (such as Motorola, LG or iPhone) and the model (such as V3M Razr, Voyager or Dare). If it doesn't, go to your local cellular store and let them look at your cell phone and tell you this information.
Step 2
Plug one end of the USB adapter into the phone and the other end into an available USB port of your computer. Look to the bottom right of the screen and you should see an "Installing Driver..." window pop up. Wait a few minutes to allow the computer to look for a driver for your phone.
Step 3
Look for a window to pop up that tells you "Driver was successfully installed." If it never comes up, or instead a window pops up that says "Driver was not successfully installed," it means your computer did not recognize your cell phone. In this case, you'll need to look for the driver. If it did install, skip ahead to Step 7.
Step 4
Go to your favorite search engine and type in the brand of your cell phone, the model and then "driver." Sites that have the driver available for download should then appear. Download the driver from any of these sites. If no sites have the driver, contact your cell phone provider and ask if they sell a disc that has multimedia drivers for the phone.
Step 5
Install the driver by double-clicking on it. Before you do this, make sure your cell phone is unplugged. After you've installed the driver, plug in the cell phone and it should be recognized.
Step 6
Go to "My Computer." Look for a new drive that has either the brand/model of the cell phone in the name or simply a picture of the cell phone on the drive. It will probably have the drive name F:, I: or G:. Double-click on it.
Step 7
Go to "Start," "File," "Settings" and "Folder Options" and enable hidden files and folders to be shown. Then go back to your cell phone's folder and look around. You should see a folder with the name "Pictures," "Photos," "Images" or a similar name. Double-click on it, and you should see all your cell phone images.
Step 8
Select images and right-click "Copy." Then go to your desktop and create a new folder by right-clicking and selecting "New Folder." Open up this new folder, right-click and select "Paste." Your images will then be copied from the cell phone to your computer, where you'll be able to access them any time.
Tip
Multiple tries may be necessary. Some cell phones do not work with computers as well as others, so you may find that you cannot get the computer to recognize the cell phone the first or even second time you try it.
Don't forget about your cell phone provider. Many cell phone providers now offer software that enables you to easily take photos off a cell phone.
Warning
Don't keep the cell phone plugged in. If you have problems installing the driver for your cell phone and need to do it manually, don't forget to first unplug your cell phone from the USB port. Failure to do so can result in a corrupt installation. Plug it back in once you've fully installed the driver.