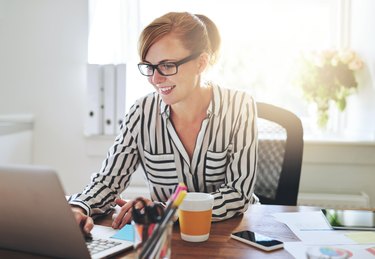 If your fonts aren't appearing properly in your programs' font lists, or if fonts look garbled in your documents, you may need to rebuild your font cache. The font cache is a file or set of files used by your computer's operating system to manage and display the fonts that are installed on your computer. The font cache may become corrupted for a variety of reasons, including disk errors and viruses. You can repair a corrupted font cache by deleting it, causing the operating system to rebuild it on the next restart.
Microsoft Windows 2000/XP/Vista/7
Step 1
Press and hold the "Windows" key (located between the left "Ctrl" and "Alt" keys), then tap the "E" key to open Windows Explorer.
Step 2
Double-click on your local hard drive, where the operating system is installed in the left pane, then double-click to expand the "Windows" directory. Double-click on the "System32" folder.
Step 3
Right-click on "Fntcache.dat" in the right pane of the Windows Explorer window and choose "Delete." Click the "Yes" button to confirm the deletion.
Step 4
Close the Windows Explorer window and restart your computer.
Mac OS X
Step 2
Press the "Power" button. When you hear the start-up tone, immediately press and hold down the "Shift" key on the keyboard.
Step 3
Release the "Shift" key after the operating system logo and progress indicator bar have disappeared from the screen. This method allows the computer to perform a "safe boot," which automatically clears the font cache.
Step 4
Restart the computer normally.