Even the most low-spec laptops are equipped with the necessary hardware to record audio from a mixing board; however, correctly configuring the two devices to work together can take some doing. Additionally, the laptop alone won't be able to record just by connecting it to the mixer: you'll need to run recording software to actually capture the audio feed. The laptop's headphone jack will only record single channel audio and can't compete with professional recording hardware.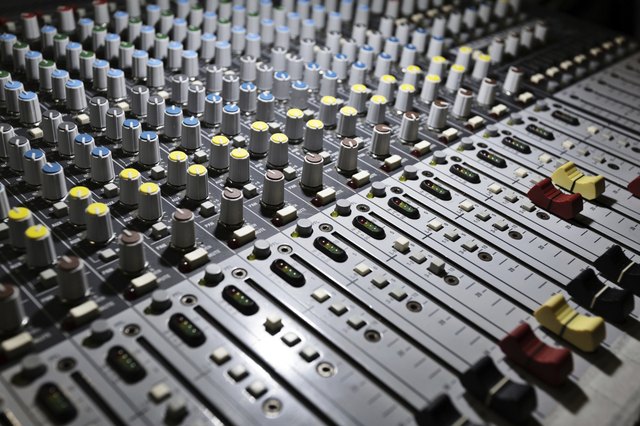 credit: zhudifeng/iStock/Getty Images
Connect a Mixing Board to a Laptop
Step
Connect RCA, XLR, Coaxial or 3.5mm cable to the mixing board's audio out port, which may be labeled as "Stereo Out," "Monitor," "Rec Out" or "Aux Send." The audio out port type varies between mixing boards and the board may offer multiple types. Use 3.5mm if it's available.
Step
Install the RCA/XLR/Coaxial-to-3.5mm adapter on the free end of the mixing board's audio out cable. Skip this step if using 3.5mm audio out. The RCA/XLR/Coaxial-to-3.5mm adapter features a Y adapter for two cables in one.
Step
Connect the 3.5mm adapter to the laptop's microphone jack, which is typically pink.
Correct the Audio Levels
Step
Connect the microphone to the mixing board.
Step
Close all programs on the computer that could create sound like games, media players and Web browsers.
Step
Search from the Search charm and select the "Sound" result from the search box.
Step
Open the "Recording" tab in the Sound window.
Step
Set "Microphone" as the default recording device, open the device's properties and select the "Level" tab.
Step
Start talking, singing, playing an instrument, or whatever you're trying to record into the microphone at the recording distance.
Step
Increase and decrease the volume levels on the mixing board's channel output modules and computer's recording audio level until the level bar is in the high green or low yellow range.
How to Record in Sound Recorder
Step
Search for "Sound Recorder" in the Charms' search bar and select the "Sound Recorder" app from the search results.
Step
Click or tap the circular button with the microphone in the center to start recording.
Step
Select the circular button which has replaced the microphone symbol with a square to stop the recording.