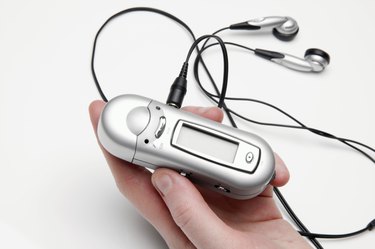 Pandora is a free radio service that allows listeners to create custom stations based on genre or artist. Because it is a streaming audio service, you cannot directly download any tangible music files from Pandora onto your computer. Instead, you must use a third party music recorder application to be while streaming music on Pandora. There are several online recorder services to choose from, all of which are free and can create music files out of Pandora's audio stream.
Step 1
Download and install a free streaming audio recorder application. A list of just a few of them are listed under "Resources." Launch the program.
Step 2
Decide which music format you want before recording, such as MP3, AAC or WAV. Open your Pandora application or Pandora.com. Select a radio channel or type in an artist category to record.
Step 3
Let Pandora play. Click "record" in the recorder application. End the recording when you want to.
Step 4
Edit the track information for the songs played. Your recorder application may allow you to edit the ID3 tags of each song recorded. Separate each song into separate music files. Different applications may have different methods of performing this, so make sure to read the instructions or look up "Help."
Step 5
Open these newly made files in your audio player. Sync your music up to your portable MP3 device.