Reformatting a hard drive is a great way to make a fresh start on a computer or laptop, completely erasing all the data on the hard drive, including the operating system. Windows does not allow users to format discs or disc partitions that are in use, meaning that you can't reformat a hard drive with Windows installed on it while Windows is running. The fact that Lenovo laptops only have one hard drive makes reformatting that hard drive impossible from within Windows.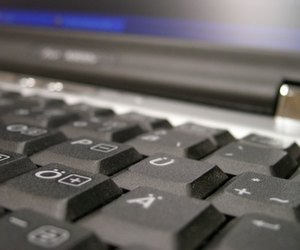 Step
Place the Windows installation CD in the laptop and restart the computer.
Step
Press a key when you see the message "Press any key to boot from CD." This start the Windows installation process.
Step
Proceed through the installation process following on-screen directions until you get to the "Where do you want to install Windows?" screen.
Step
Click "Drive options (advanced)" link above the "Next" button.
Step
Select any partitions you want to delete, if you have partitioned the Lenovo's hard drive, and click the "Delete" link. Confirm your decision when asked and wait for the partition to finish deleting before continuing. Repeat this process on any partition you want to remove. Note that deleting a partition without creating another one will leave the unpartitioned space unusable. This step is optional.
Step
Select the partition you want to format and click the "Format" link in the advanced options menu.
Step
Choose "Quick Format" as the formatting type and "NTFS" as the file format, then click "OK" to format the Lenovo laptop's hard drive. You can now either continue with the Windows reinstallation or exit the process. A laptop without an operating system installed will not function beyond the basic startup process, though.