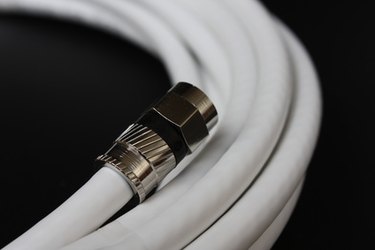 Coaxial cable locks are found in most hotel rooms to prevent the guest from moving or removing the cable. The coaxial cable is usually located behind the television, and can create operational problems for guests who are using a wired internet connection. Please note, the hotel may hold you liable for moving or removing the coaxial cable.
Step 1
Insert the tissue paper inside the gap between the coaxial cable and the cable lock. The cable lock is the plastic sleeve that slips over the coaxial cable that is attached to the wall mount.
Step 2
Insert the clip of the pen cap inside the tissue paper. The clip of the pen cap needs to be wedged against the connector of the coaxial cable. This will prevent the coaxial cable connector from slipping when unscrewing the cable lock.
Step 3
Press firmly against the pen cap, and turn the cable lock counterclockwise to remove. Continue to press the pen cap while unscrewing the cable lock; this will prevent the cable connector from slipping back into the cable lock.