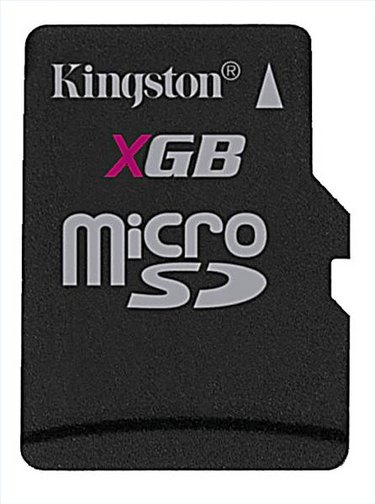 Kingston is one of the biggest manufacturers of computer memory cards. They also have a large market share of the flash memory sector, including USB flash drives, SD cards and micro SD cards. Flash memory cards like the micro SD can be locked in Write Protect mode, which prevents you or someone else from accidentally deleting or copying over important data.
Step 1
Look for a switch or button on the side of the micro SD card or adapter. It might have a lock/unlock symbol on it.
Step 2
Move the switch to the "Unlocked" position to remove write protection. This position may also be labeled "R/W" for read/write. If you have no switch, continue to Step 3.
Step 3
Download and install Sony EzRecover (see Resources for link) and attempt to use it to format the card (this will erase all content). If this doesn't work, try Step 4.
Step 4
Delete and repartition the micro SD card using Windows XP. Select "Control Panel" > "Administrative Tools" > "Disk Management." Select the micro SD drive and click "Delete." Right-click on empty drive and select "New Partition."
Tip
Try the micro SD card on other computers and memory card readers to see if you can access your files and back them up.
Warning
Use the "Safely Remove Hardware" feature when disconnecting your micro SD card to prevent data corruption or errors. Right-click on the "Remove Hardware" icon in the taskbar and select your micro SD card to remove.