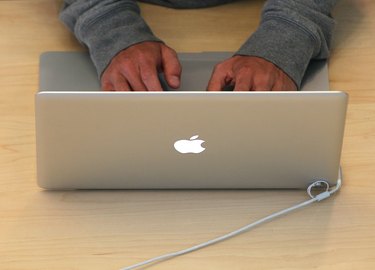 Each user account on a MacBook computer has a password associated with it. When users have their existing password, the password can be removed easily from the "System Preferences" menu under the "Accounts" tab. However, when you wish to remove a password without knowing what it is, you will need to follow a different process that exists for security purposes. This process helps protect your MacBook by preventing unauthorized people from removing and changing the password.
Step 1
Start up the computer using your OS X install disc. To do this, put the disk in the computer and press the startup key while holding down the "C" key on the keyboard. Keep the "C" key pressed down until the OS X startup screen appears.
Step 2
Choose the language you wish to boot in and press the arrow button.
Step 3
Enter the "Password Reset" window. In the "Utilities" menu at the top of the screen, select "Password Reset" or "Reset Password."
Step 4
Remove the MacBook password and replace it with a new password. Choose the hard drive volume for which you want to remove the password. Use the pull down menu to select the name of the user whose password you wish to change. Enter the new password twice. Add a password hint if desired. Press "Save" to store the new password.
Step 5
Close the "Password Reset" window by pressing the red button on the upper left corner of the window. In the "Mac OS X Installer" menu, select "Quit Mac OS X Installer." Press "Restart" to complete the process.