While attempting to format a Toshiba flash drive, you may receive an error message under certain conditions stating that the drive cannot be formatted because it is write-protected. If there isn't a physical write-protect tab on the flash drive, this can happen for a number of other reasons. Of these, the most common are that the drive is being indexed by Windows or that a tool called the U3 Launchpad is being used on the drive. Rectify these issues or use a third-party tool to format your Toshiba flash drive.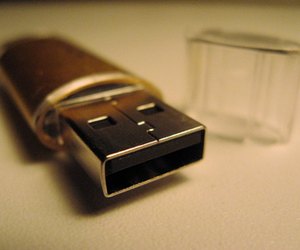 Disabling the Search Indexer
Step
Press the "Ctrl," "Alt" and "Delete" keys simultaneously.
Step
Click "Start Task Manager."
Step
Click "SearchIndexer.exe" then click the "End Process" button. Attempt to format the drive again. If the issue persists, it may be because the flash drive has the "U3 Launchpad," a feature that resides on a hidden drive partition and allows programs and settings to be saved on the flash drive rather than the local computer. Continue to section 2.
Removing the U3 Launchpad
Step
Download the U3 Launchpad removal tool from the link in the "Resources" section. Although the tool is distributed by SanDisk, it also works on Toshiba flash drives. Extract the tool to the location of your choice.
Step
Run "launchpadremoval.exe." If the Toshiba flash drive is inserted and it does not have the U3 Launchpad feature, you will receive a message stating "Please insert a U3 smart drive." Stop here and proceed to section 3 to format your drive using a third-party utility.
Step
Click "Next" through the prompts to remove the U3 Launchpad from your flash drive. If the tool allows you to proceed past the first step, it means that your flash drive does have the U3 Launchpad. After removing it, the drive can be formatted successfully.
Using a Third-Party Formatting Utility
Step
Download the HP USB Disk Storage Format Tool using the second link in the "Resources" section. Although this tool is distributed by HP, it will work on Toshiba flash drives. Install the tool, then launch it.
Step
Select the Toshiba flash drive from the "Device" drop-down menu, then select a file system. In most cases, FAT32 is the recommended file system for USB flash drives.
Step
Click the "Start" button. The drive should format successfully.