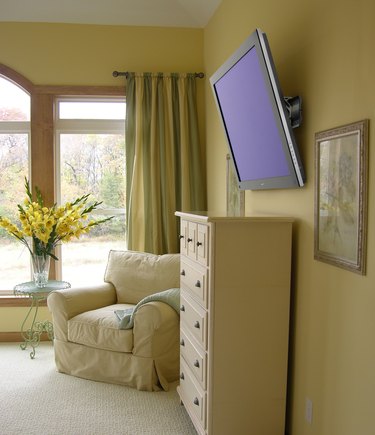 A repair technician may charge hundreds of dollars to repair a plasma TV, but you can save time and money by repairing it yourself. You can fix internal plasma TV problems such as dead pixels, screen burn and other distortions.
Step 1
Connect your external DVD player to your plasma television and turn on the power. Use an external DVD player for this process, even if you have an internal DVD player on your plasma television.
Step 2
Access the television's main menu, navigate to "Display Options" and change your settings to the highest resolution available for your set.
Step 3
Put a Pixel Corrector DVD into the external DVD player. Access the main menu and choose the repair functions that you need, or let the wizard run all of the tests.
Step 4
Let the repair wizard run the DVD and evaluate the improvement. Watch the washes, pixel corrector and other tests as it repairs your plasma screen, and rerun the repair wizard for problem areas that do not self-correct.
Step 5
Use your Pixel Corrector DVD on a regular basis. Use the DVD on other flat screen television sets to keep the plasma screens in good condition and protected from damage.
Tip
Find your warranty and check to see if you have coverage for problems that you cannot fix at home. Some stores replace your product if they cannot repair it as long as you have a warranty or extended coverage. You can use a plasma repair DVD for your computer or laptop. Use a microfiber cloth with an anti-static cleaning solution to clean and protect your screen. Apply the spray to the cloth and wipe the screen gently. Do not spray directly onto the screen.
Warning
Tapping with a hard object could further damage your broken plasma TV beyond repair. Once you tap on the TV with a hard object, you may violate warranty terms. Do not attempt to repair a television or use an electrical item that is wet or damaged by flood.