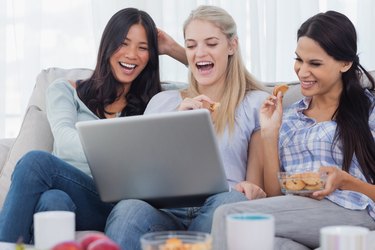 Repeating a video you just watched on YouTube is possible by using the Repeat toggle. If you're watching a playlist, you can preset the repeat function to repeat the entire playlist. You can also repeat videos on the YouTube app, so no matter which platform you use you can replay the video you just enjoyed.
Use Toggle
If you want to replay a video on YouTube, find the circular arrow symbol in the left corner of the toolbar below the video display. Click this Repeat toggle and your video instantly replays. If YouTube played an ad before airing the video the first time, it won't make you watch the ad again. If you're viewing a playlist and want to repeat the entire playlist, find the Repeat Playlist toggle underneath the title of the playlist in the box to the right of the video display. You can't repeat an individual video on a playlist unless it's the final video. Move the video you want to replay to its own playlist by clicking Add To below your profile image underneath the video box.
You can also repeat videos when using the YouTube app on your mobile device. After the video finishes, click the Repeat symbol that appears where the video just played. Just as you can't replay a video unless it's the final one in the playlist on the PC version of YouTube, you can't do this on the YouTube mobile app.