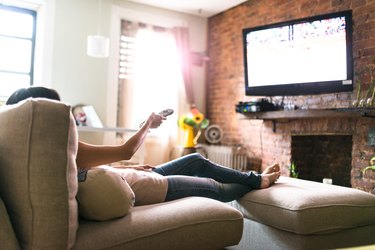 If you're a DirecTV customer and you find your DirecTV box not working, you have a few options. You can try pressing the reset button or taking other steps to reset the box. You can also reset your service online and make sure your equipment is properly connected to your television set, and that your TV itself is working. If you get stumped, give DirecTV technical support a call for advice and assistance.
Resetting Your DirecTV Box
DirecTV is generally a reliable service, but if you experience problems with it, there are some steps you can take.
One of the easiest steps you can take is to reset your DirecTV box by pressing the reset button. On some boxes, this is inside the compartment with the smart card you use to access DirecTV service, while on others it may be on the side of the box. Press this button and wait for your box to reboot to see if it solves your connection problems. Check the documentation for your particular box if you can't find the button.
If that doesn't help, you can try unplugging the DirecTV box from the wall or power strip where it is plugged in. Wait at least 15 seconds, then plug the box back in where it was originally plugged in. Press the power button to turn it back on, and see if the situation is resolved.
Handling Connection Issues
If you find your TV connected to DirecTV with a white screen, a solid blue screen or a blank screen, it's possible that the TV has become disconnected from the DirecTV box. Check the cables connecting the TV to the DirecTV box, and verify that they are securely connected. You can try disconnecting them and reconnecting them if you aren't sure. Make sure that the TV is set to the correct input using the TV's remote control and instructions from the TV manual or online documentation.
If the TV doesn't seem to turn on at all, that may be a power problem with the TV. Unplug the TV from where it is plugged in and plug it back in to make sure it is securely connected. Try plugging another device into the same outlet to make sure it is able to receive power. If the outlet is working, it may be a sign the TV needs repair.
If the TV works but can't get a DirecTV signal, you can also try hooking the DirecTV box up to another TV to see if that resolves the problem. If not, the issue may be with the DirecTV box, and you may need to call DirecTV for technical support. Otherwise, if the box works with another TV, the issue may be with your TV. Consider replacing it or having it repaired by the manufacturer.
You can also try hooking the TV up to another input, such as a Blu-ray player or video game console like an Xbox or PlayStation to see if it can receive input from that. In that case, it may be a sign that there is an issue with your DirecTV box rather than your TV.
Have DirecTV Reset Everything Online
Another option if you are having DirecTV service issues is to have DirecTV reset your equipment online. To do this, visit the DirecTV website or use the MyAT&T app to connect to your DirecTV service. This can be helpful if you're missing service for particular channels
Click or tap Manage my plan and then Manage and learn about equipment. Click or tap refresh receiver. Wait five minutes for your box to refresh, and call DirecTV if there is a continued problem.