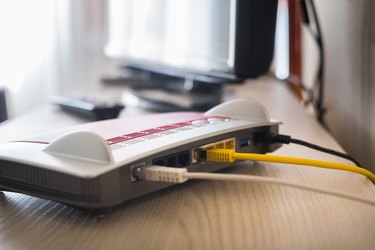 Like any modem, the Arris models will call for the occasional reset. Two essential Arris router reset options exist and both serve very different purposes. The power cycle reset is used to reboot during an outage or as a solution to a temporary error or malfunction. Completing a power cycle reset is fast and easy, and it solves a surprising number of problems. A full factory reset is used when you no longer want the modem and intend to sell or re-purpose it to a new user. The factory reset will remove your network information and restore the modem to the original settings to operate on a new network.
Power Cycle Reset
To reset Arris modem models through a power cycle, simply unplug the modem from power and also unplug the Ethernet cable as a measure of prudence. Wait for one or two full minutes to drain all of the power from the modem. Plug the power cord and Ethernet back into the correct ports and wait another full minute for the modem to reboot and connect the network. The lights on the modem that indicate power and internet will let you know when the modem is active. Test your internet network on a home computer to ensure everything is operating properly. If the modem is still not working properly, locate the recessed pinhole on the back of the modem. Straighten a paperclip and press the button for a second, then release. This will cycle a second reset that can restore the modem operations.
Factory Reset Arris Modem
To run an Arris router reset to the original factory settings, locate the same pinhole on the back of your modem. Use the paperclip to press the button inside the hole but hold the button down for a full ten seconds this time. This will run a full factory reset on the modem. After running a factory reset, you must setup the network again or setup the modem on a new network. It will erase the current network settings for a fresh start.
Hardware Troubleshooting
If the power cycle reset, button reset and full factory reset fail to restore the modem to normal operations, you may have a hardware issue or a disconnect related to the power source or internet connection. Start by checking your power and Ethernet cord for damage or a loose connection. Plug the power into a dedicated wall outlet to ensure it has a reliable power supply. Replace the Ethernet cord if necessary. If the connections are operating normally, the router itself may have an internal hardware failure. Check for a product warranty or repair policy to have the modem fixed or replaced. If neither are valid options, you may require a new modem purchase.